2013-05-23
Get out and enjoy the green space!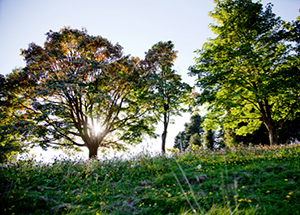 One of the many advantages to living at the Elliot is the accessibility of green space. Here are a few parks in the area that we recommend. What are you waiting for? Take your pick and get outside!
When it comes to parks Queens Park is considered New West royalty. With a variety of amenities, this park truly has something for everyone. If you have small children, be sure to check out Rainbow Playland. With a petting zoo, waterpark and two playgrounds, your kids will be begging you to take them back every other sunny day. Other Queens Park perks include running paths, tennis courts, an artificial turf field, picnic shelters and a rose garden. Even furry family members will be eager to join, as there is a great off-leash dog park.
One of New West's oldest parks (established in 1876), Albert Park is commonly referred to by long-time residents as the hidden gem of New West's park system. The park is located at the top of an escarpment and has spectacular views of Pattullo Bridge, the Fraser River and Surrey. We suggest "park-ing" yourself on one of its many benches and enjoying the views and summer sunsets.
What was once a derelict industrial shipyard has now been converted into Pier Park. The conversion project was completed last spring and locals have been enjoying this unique space ever since. Make it a frequent destination spot for you and your family this summer. You also won't want to miss out on these incredible activities and events.
The Elliot project is projected to be completed December 2014. New West's parks and green spaces will be located just blocks from Elliot's front door.